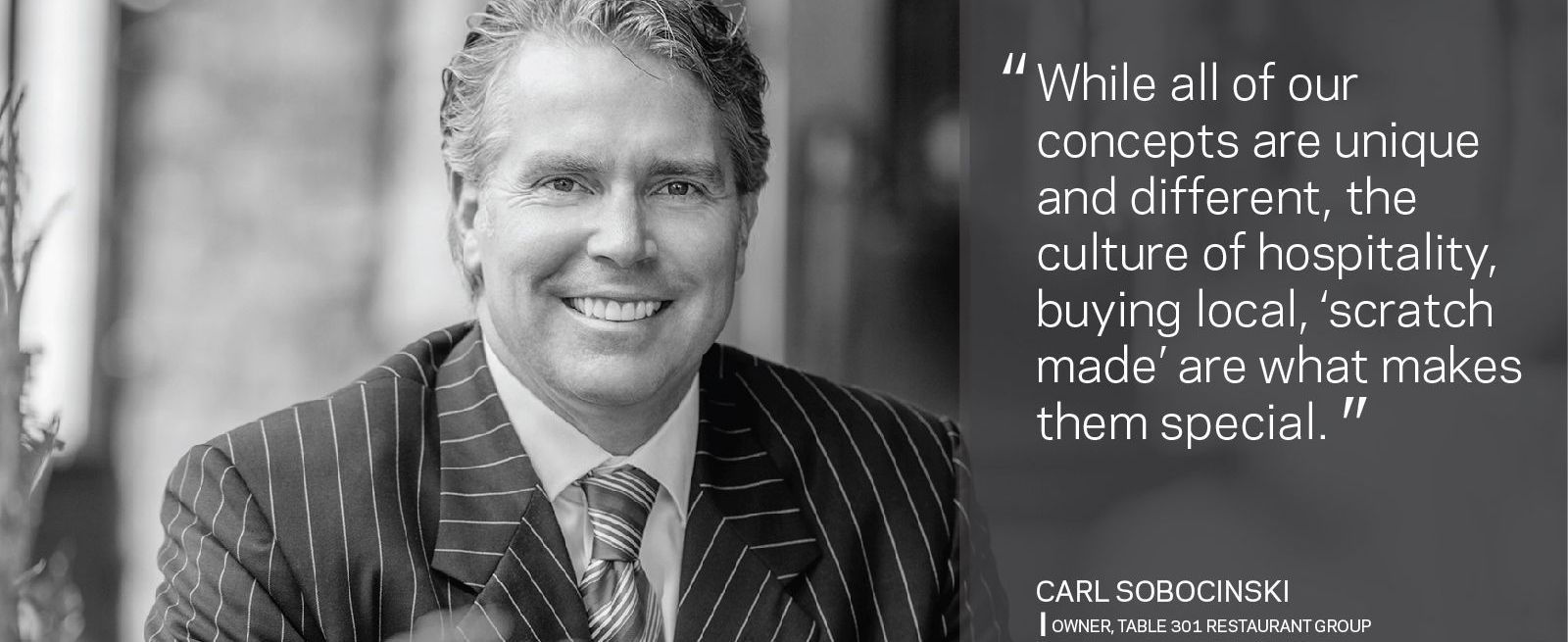 Q&A
Table 301 Restaurant Group owns and operates several restaurants in downtown Greenville, including Soby's, The Lazy Goat, Soby's on the Side, Nose Dive, Passerelle Bistro, Papi's Tacos, Table 301 Catering and The Loft at Soby's. You also recently added Southern Pressed Juicery and Highway 301 Food Truck. Will you tell us a bit about the history of the company and the restaurants here in town?
"This end of Main Street was pretty desolate when we opened Soby's (family nickname that has been passed on for generations). Many of the buildings were boarded up at the time. I believed in the future of the city and the vision that so many had, has come true. At Soby's, we offer a fun, creative southern menu with the best offerings from various parts of the south.
My vision was to create different concepts that would complement each other rather than compete with each other. So next, we introduced Soby's on the Side which is our breakfast and lunch café.
Above that, we constructed a private dining facility, The Loft at Soby's. This was created due to the demand for private, upscale and exclusive dining space. It is a luxury loft apartment with two bedrooms and a rooftop terrace.
Then came The Lazy Goat, which is our Mediterranean restaurant. It has a great location overlooking the Reedy River with beautiful outdoor dining space. We offer full meals or tapas. There is a brick oven so we also offer pizzas. We have a private dining option as well. Our wine list includes wine from countries that border the Mediterranean. Nose Dive, our gastro pub, is casual and approachable serving urban comfort food. It also features a great beer selection.
Next, we opened Passerelle, which is our French bistro. The restaurant overlooks the falls in Falls Park. It has indoor and outdoor seating with a chef's counter inside. Passerelle is the French word for footbridge. We named it this since we are right at the entrance of the Liberty footbridge.
Following that came Papi's Tacos which is located underneath the Lazy Goat. We have a gentleman, with the nickname Papi, who would occasionally bring in food for the staff. I told him that one day I would put him in business and we did! It is a very simple taco concept - quick service with authentic tacos made from scratch.
Last year, we bought a food truck and named it Highway 301 which primarily does catering. We do some festivals and street events with it as well.
And then, in May, we opened Southern Pressed Juicery. This was our entry into the health and wellness arena. We also offer some community events in that space. "
Tell us what makes Greenville, with its unique charm and culture, so special for you.
"Greenville has everything that a big city offers, but it still has that small town charm. It has personality and hospitality."
Tell us about Greenville's hidden treasures or best kept secrets that visitors can "discover" while they are here.
"People should know about the Bob Jones Art Museum. There is one downtown and one on the Bob Jones University campus. The one on the campus has the largest collection of religious art in the Western Hemisphere. Regardless of your faith and religion, it is worth seeing. There is also the BMW Zentrum. Most people know that BMW manufactures cars here but they may not know about the museum, as well as a driving track."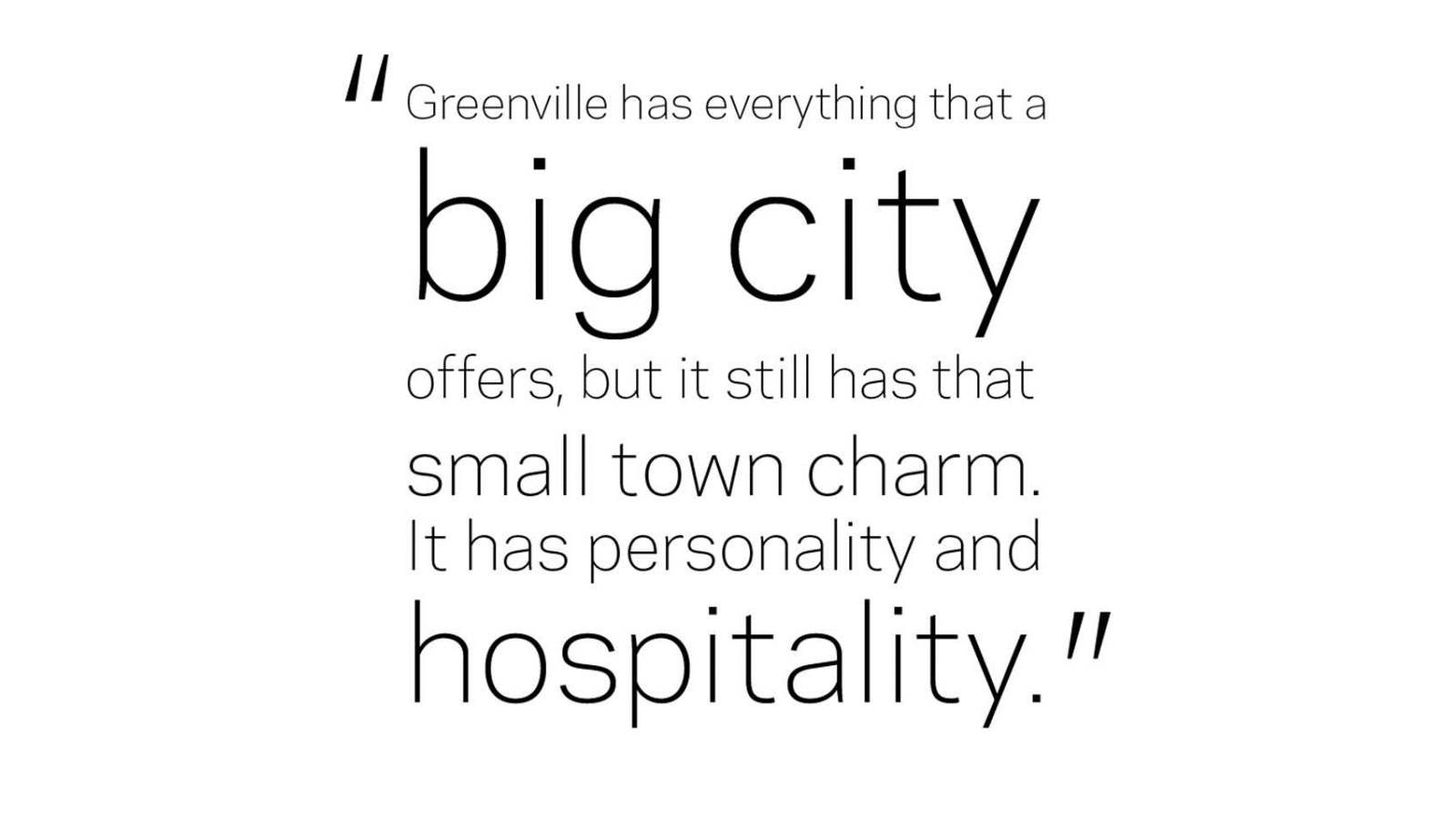 When you are not eating at your restaurants, what are some of your other favorites that visitors might want to experience?
"Vic's Pizza on Coffee Street is a small, family-run, New York Style pizzeria.
Northgate Soda Shop on North Main is about a mile outside of town. It's been there for more than 50 years and is like going back in time.
My daughters and I love sushi. Tsunami and Murasaki are two of our favorites.
For a special night out, either North Hampton Wine Café or Giorgio's. "
If visitors are only here for a few days, what would you recommend as "must see or must dos"?
"If they are here on a Saturday (from spring to fall) they could do our Saturday market. It is more than just a market, it is an event.
Swamp Rabbit Trail is very popular. There are almost 20 miles of trails and interesting things to discover along the way.
John Nolan does a culinary tour, a southern food tour, a walking history tour and a mill tour. The mill tour is really cool since Greenville was a textile mill community. There are several old mills that have been restored and renovated for residential and other various uses.
If you are a baseball enthusiast, visit the Shoeless Joe Jackson Baseball Museum. The museum is his old home and contains several artifacts from his career. "
As I understand it, you have two daughters, what do you recommend for families while they are visiting Greenville?
"My daughters love to walk up and down Main Street and find "the mice" that are hidden along the street. There is a story about the mice and clues as to where they are. We hand the clues out at all of our restaurants.
We enjoy riding bikes on the Swamp Rabbit Trail. If you didn't bring your own bike, there are plenty of places in the city to rent them.
My girls love the children's museum (The Children's Museum of the Upstate) and we go to hockey games (Greenville Road Warriors) and baseball games (The Greenville Drive). The Greenville Zoo is also really nice."
There are a number of wonderful artists and galleries here. What are some of your favorites?
"The river walk, where there are about 15 artist's studios is unique and worth seeing. The artists will practice their craft with their doors open or out along the walk. They are happy to stop and converse with the visitors.
I would also mention Llyn Strong, a jewelry designer, who has a beautiful studio and gallery. She was one of the first retailers on Main Street where she features her work and several others. "
What about favorite unique, must see shops?
"Llyn's shop on Main, for sure. Ayer's Leather is another favorite that has been here forever. For families, I would suggest Kilwins (ice cream and candy), as well as Mast General where you can get barrel candy. For those that love to cook, Cook's Station or Charleston Cooks! are great. "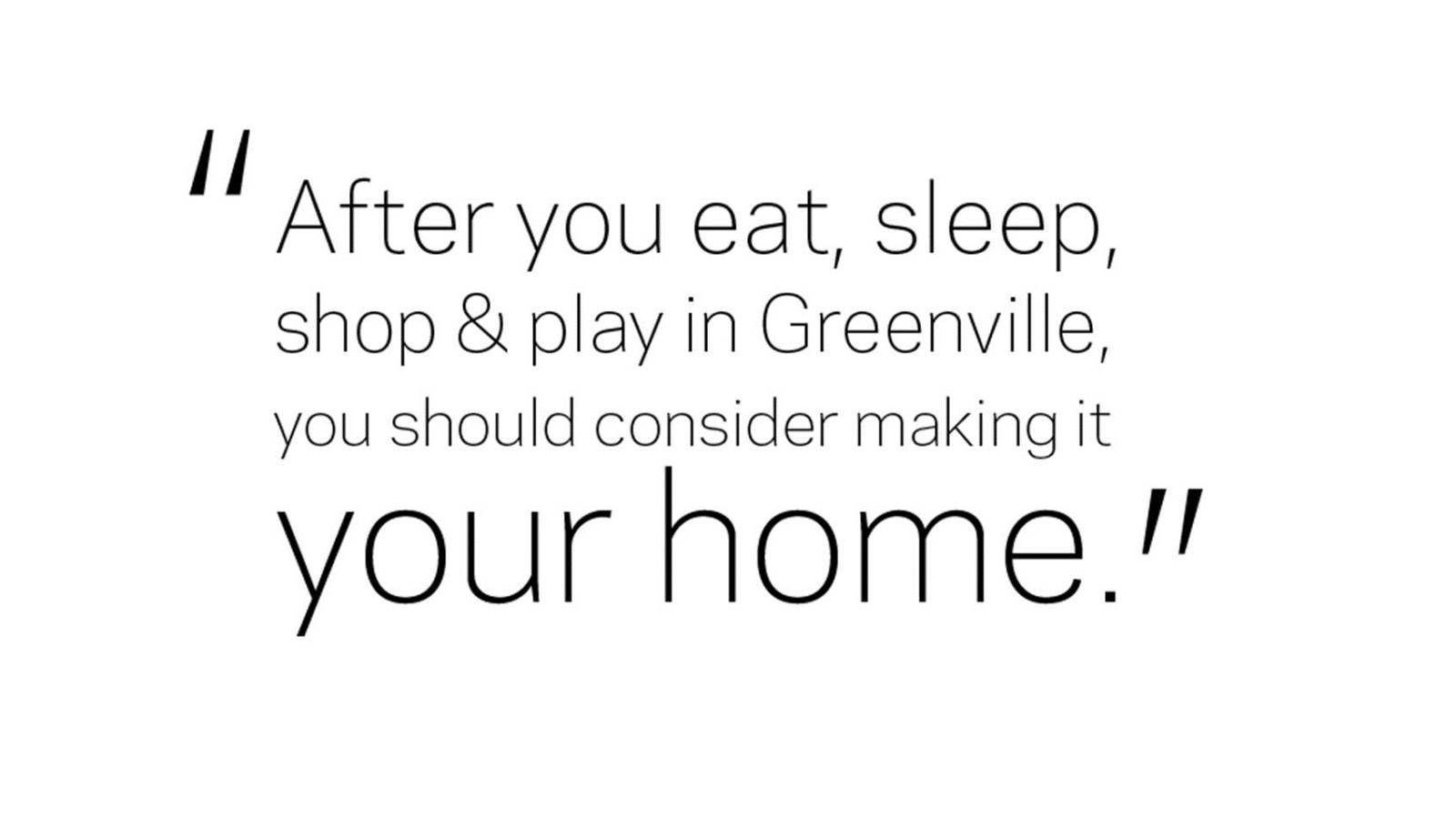 Do you have a favorite music venue here in Greenville?
"Some may be surprised that we get some big names that come to both the Bon Secours Wellness Arena and the Peace Center.
There is also Smiley's Acoustic Cafe in the West End. They have free, live music six nights a week.
I have heard great things about Jack and Diane's dueling piano bar on North Brown Street but have never been there myself. "
Is there anything else about Greenville that you would like our visitors to know?
"After you eat, sleep, shop and play in Greenville, you should consider making it your home. Greenville is a really special place but people have to experience it to understand it. "