Q&A
As I understand, you grew up in South Carolina but in the Lowcountry. How long have you lived in Greenville?
"My family has been in the Charleston area for generations. In college, I met my husband, who is from Greenville. Having never visited this area, we moved here due to a job offer my husband received. We have lived in Greenville now for 37 years and raised our four children here.
What makes Greenville so special to you?
"I have watched Greenville transform over the years. My entire job (Kim is Editor and Chief of TALK Magazine) is to research and say great things about the city. I can assure you, for eleven years, every month, there is no shortage of wonderful things to say. The schools are outstanding, the people are caring and committed, and the economy is booming. It is a little jewel, really!"
There are wonderful artists and art here in Greenville. Tell us a bit about the art scene in Greenville.
"Greenville is very art-centric. We do two big art events each year, in addition to other art related opportunities almost every night of the week. One is "Artisphere," which is ranked as one of the top art festivals in the nation each May. Every November, we have "Open Studios" where over 150 artists open their studios for a self-guided tour. The Metropolitan Arts Council is located right downtown and is a fabulous source for all things art in Greenville. The first Friday of every month, all of the studios in downtown and the West End are open from 6pm to 9pm for patrons to visit.
The Village in West Greenville, is a must see for art lovers. There are numerous galleries and studios for working artists. One of my favorite coffee shops, The Village Grind is located there. There are great places for lunch, even a local market. It is like our SoHo and growing in huge leaps.
There is also the "Art Crossing" along the river. It is a scenic place to wander and interact with the artists as they work, as well as a great place to purchase local art.
The city's love of art is demonstrated by the number of businesses/venues that display local art. In addition to your hotel, the Warehouse Theater, Center Stage, the Chamber and Caldwell Banker Caine do as well. These are just a few examples, not to mention the statues you will see on almost every block downtown."
You are an artist, tell us about your art?
"I have always loved creative things but I just started doing art seriously about 10 years ago. Friends of mine invited me to a workshop, which was being conducted by a well-known artist named Alice Williams. She became a mentor to me and I've been painting ever since.
I do both oil and acrylics and a lot of mixed media. My art is big, loose, colorful and impressionistic. I am not interested in an exact replica but I am interested in getting an emotion out of you. My basic belief is that we are all the same on some level. If I can paint or write something that hits that common cord then I feel like I have been successful.
You can find my work in my studio at the new Greenville Center for Creative arts in West Greenville and in several southeastern markets as well as on my website www.kimhassoldart.com."
Downtown Greenville has really transformed over the last several years. It is bustling with all types of activities. What is your favorite thing to do when time allows?
"Since I am runner, one of my favorite things to do is run downtown in the morning. It's quiet and peaceful and you notice things you wouldn't notice during the hustle and bustle of the day.
It's also nice to run along the Swamp Rabbit trail, which accommodates both runners and bikers. The city really encourages active lifestyles. Bike lanes are found throughout the city. We love a good walk too and our downtown is the perfect place to do it."
What would you recommend for families visiting Greenville?
"There are many statues that are worth seeing. There is a replica of a famous bronze boar statue from Florence called "Il Porcellino". There is a myth if you put a coin in the boar's jaw and rub it's nose, then it will ensure a return trip.
Kids love "Mice on Main." You can pick up a map with clues of where the mice are and have fun finding them.
Our baseball Stadium is in a great location-right downtown. It is well laid out, parking is easy. Even if you're not a baseball fan, it's impossible not to enjoy the up close and personal atmosphere of the game here."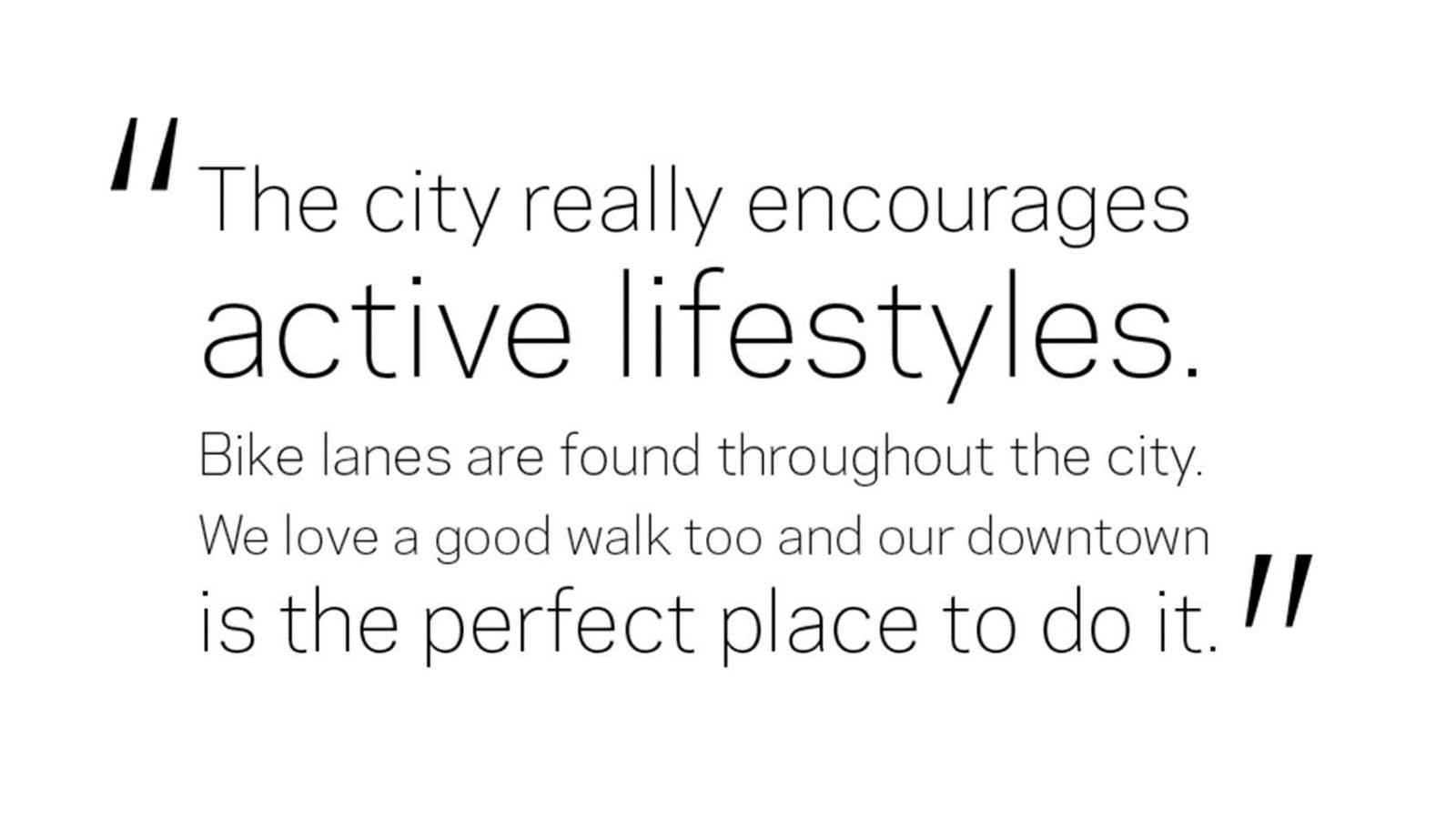 There are many great restaurants in the area? What are a few of your favorites?
"Now that my children are grown, I love a good girl's nights out. For that, I would suggest the Lazy Goat, Soby's or Breakwater.
For dinner, Augusta Grill has the best food, as well as original art. In the winter time, Grill Marks is nice. It is a burger place and if you get there early, you can sit by the fire and enjoy the truffle fries and any kind of burger you can imagine.
At the other end of Main is Bohemian. They have a great brunch and Sunday morning Bloody Mary bar.
Nantucket is also wonderful in the winter time because you can dine while you watch the ice skaters in the park.
For a more casual experience, Como's Pete's has hot dogs, gyros, onions rings, etc. It has been there forever and is a local favorite.
If you love chocolate, you have to try Vaughn-Russell Chocolates from Vaughn-Russell Candy Kitchen. They make their own candy from scratch. My recommendations are the caramel, the chocolate covered pecans, and the chocolate covered raisins, but it would be hard to go wrong with anything here.
If you love cake, Brick Street Café has a wide variety of amazing choices! I was going to try to choose a favorite, but maybe better to share one of each of the carrot cake, sweet potato cake and of course the best chocolate cake ever."
What do you recommend doing in the Greenville area for a romantic weekend?
"Dinner at Augusta Grill is the best. Local flavor and I've literally never had a bad meal there. All of the Table 301 restaurants are sure bets as well.
NorthHampton is a great place where the locals frequent. If the weather is nice, you can sit outside. They have great wine recommendations and will serve by the bottle or glass. Dinner is paired with your favorites."
Do you have a couple of unique, must see shops?
"There is a high end consignment store on Augusta Road called Labels that I love. The owner is very meticulous in what she accepts and it feels like shopping in a fancy boutique. Lots of designer names here.
There is a shopping center on Augusta Road that has Muse (shoes), 4 Rooms (home décor) and Roots (plants and other assortments). Love a great trip to Monkees and Cocobella as well."
Tell us about any of Greenville's hidden treasures or best kept secrets.
"You have to be a certain kind of person to enjoy Shinola. But if you love to "dig" for treasures, it is the place to go. It is very eclectic and has a wide variety of different items.
There are two soda shops, and who doesn't love a good old-fashioned one of those? One is North Gate which is a total throwback with root beer floats, milk shakes, orangeade and a variety of treats. The other is Pickwick which is a favorite for generations of families here. Every single nostalgic dining treat is available for the asking.
We have live music downtown Wednesday, Thursday and Friday nights almost eight months out of the year, and a calendar of them available through the city."
Is there anything else about Greenville that you would like our visitors to know?
"Not only is it a beautiful place, but it is safe and clean…everywhere!
There is so much to do downtown. For as long as you are here, you can park your car and never need it again. Our beautiful city offers a wide array of dining options for those that want an expensive meal to those who are looking for more value.
The people are welcoming! We are proud to live here and want our visitors to love our city as much as we do. When you visit, we want you to want to come back."